PLEASE NOTE
Footwear NOT included with items
UNLESS specified in description
"Inspired by Olaf"
outfit including turtle neck tee and teal
faux suede boots;
"Inspired by Frozen Princess"
outfit including underskirt,
bustier, sheer train, blue gemstone necklace, tiara and icy
white satin slippers; and
"Almost Frozen"
pajamas including cozy hand-knit
slippers.
Whole package

INCLUDING SHIPPING$120.00
HOCKEY OUTFIT
including 1 piece hockey socks/tights; elastic
waist pants w/ built-in pads; sweater is pull-on cotton knit
w/polyester trim; 1 pair of Black skates, hockey stick, matching
toque, 'gold' medal and trophy included.
Green Plaid Jacket Outfit
including polyester/wool blend
green & gray plaid jacket with working buttons. 100% cotton
knit gray tee shirt w/Velcro closing at back. 100% cotton cargo
pants w/elastic waist and brown faux suede lace-up boots.
Hockey PJs
including 100% cotton flannelette elastic waist
pants. 100% cotton knit short sleeve tee shirt with Velcro
closing at back and 1 pair of Socks.
Whole package

INCLUDING SHIPPING$120.00
Whole package

INCLUDING SHIPPING$120.00
RED SNOWFLAKES PJs :
100% cotton flannelette pants
with elastic waist. Baseball style top with snowflake accent .
Slippers included.
RED OXFORD SQUARE COAT:
Heavy Ponti knit with
brushed cotton flannel lined hood & accent cuffs; black clip
closures at front (v

ariation of Liberty Jane pattern

); includes
black leggings and Black lace-up Boots.
CHECKED SKIRT OUTFIT:
consists of black and white check
elastic waist skirt; long-sleeve black turtleneck t-shirt with red
accent belt; coordinating white and black wool tights and hat
(

shares I pair of Black Boots

)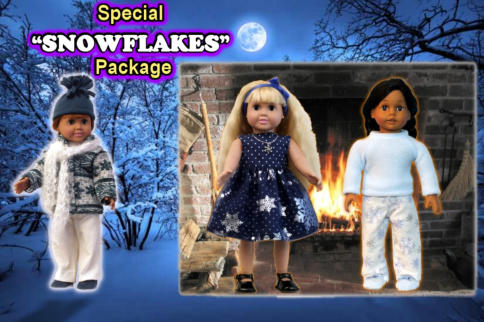 SNOWFLAKE SWEATER OUTFIT
includes winter white
pinwale corduroy boot-leg pants w/ elastic waist. Shimmery
iridescent sleeveless turtle neck tank. Cozy teal sweater jacket
w/ snap tape at the front edges. Teal fleece toque & shimmery
scarf. Also includes Ugg Boots (

NOTshown

).
MIDNIGHT SNOWFLAKES DRESS:
100% cotton sleeveless
dress with lined bodice; deep blue sheer and silver snowflake
overskirt. Includes necklace and silver flats

(NOT shown)

.
ICY SNOWFLAKES Pjs:
100% polyester fleece top. 100%
cotton flannelette pull on pants & matching fleece slippers.
Whole package

INCLUDING SHIPPING$120.00
TINY DANCER OUTFIT:
includes ballet outfit (tights and ballet
slippers), pink spandex leotard with tutu.
DANCE CLASS ACCESSORY PACK:
includes burn-out cotton
knit off-the-shoulder tee; 100% cotton shoe bag with accent; fine
cotton knit leg warmers, matching hair scrunchie. And black
flats.
BALLET PJs:
100% cotton flannelette elastic waist pants,
coordinating baseball style tee cotton & polyester knit, includes
hand-knit slippers.
STILL DANCING:

One piece 100% cotton knit unitard, sheer
polyester print elastic waist skirt w/ bow detail at waist

(may be
gathered and worn to the side or in front)
; short-sleeved cotton
knit sweater with ribbon at waist closure

(shares shoes with
Accessory Pack)
Whole package

INCLUDING SHIPPING$120.00
YES!
I do still have a number of DOLLS for
sale including beautiful "girls" from the
SOPHIA COLLECTION.
I will provide an outfit with each doll; however,
you will have to get in touch with me to discuss
your preferences since prices, outfits and
shipping costs vary.
sales@yourdollscloset.ca